My Climate Path's Anniversary Event – A Minister, Dancing Hedges, Interactive Workshops and Climate Heroes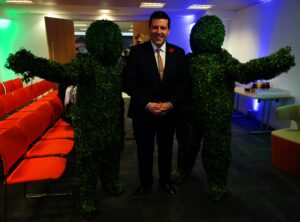 On 11 November this year, our COP26 educational legacy project, My Climate Path, hosted two events to celebrate and reflect on the progress which has been made over the past year.
In the morning, we welcomed over 170 young people from Greater Glasgow to our #MyClimatePath Conference held at The Studio, Glasgow. It was an excellent day filled with dancing hedges, interactive workshops, and discussions with our climate heroes.
Opening the event was our wonderful host, Anna Devitt, who introduced the day with Strathaven Academy's Samba band! We heard from Jamie Hepburn, Minister for Higher Education and Further Education, Youth Employment and Training, who spoke about the abundance of green jobs in Scotland and future of the green skills agenda.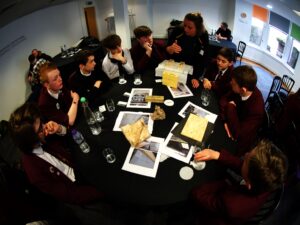 We also heard from a panel of our Climate Heroes, who gave great initiatives to inspire and engage young people who are interested in learning more about the green skills agenda. Two of the schools showcased some of the fantastic sustainability work which they have been doing in class since COP26 came to Glasgow. The morning finished off with our young people attending interactive workshops with organisations such as Kabloom, Balfor Beatty and CCG.
In the afternoon, we hosted a networking lunch to celebrate and reflect on all the  progress which Glasgow's Circular businesses and our Climate Heroes have been made over the past 12 months. Graham Ross, CEO of Austin-Smith: Lord spoke to us about his experience of being a climate hero and presented all the ongoing work they have been doing to practice and progress towards net zero! Our very own Lisa Torrence started some insightful circular discussions, and we look forward to the many more to come as Glasgow aims to reach Net Zero goals.